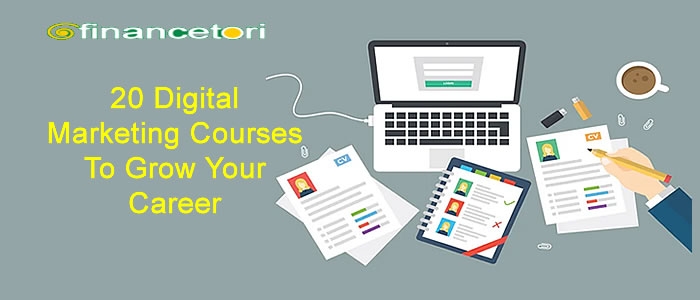 With the rise of online products and the rapidity in the widespread use of social media, the need to learn the golden skill of marketing has made the skill a high-demand skill. The reason is because just having a digital product or even a physical one is hardly enough. You will need to learn how to put your products in the face of your potential clients and how to sell to the right people.
Many experts have produced several digital marketing courses to help you in your career, but you need to be very careful to choose what you need and how each course can be helpful in achieving your marketing goal.
Simply put, every marketing course could be good but not all marketing courses are good for you.
Does it cost much to study these courses?
It depends. Every course has its pros and cons, but there are courses you can get at affordable prices. While some are quite expensive for an average person, some are totally free which makes it possible for you to access them until you are ready to pay for one.
You don't have to be worried that the courses are not good enough because they are free. As much as paid courses may seem to serve better, you can still garner so much knowledge from the free ones and even get certifications for your period of study.
Take A Look At Some Of The Marketing Courses You Can Access
We have made extensive research to give you 20 marketing courses that can increase your growth and reach in your career, 10 free courses and 10 paid courses. Here's a list:
Foundations of Digital Marketing and E-Commerce - Coursera
This course gives you a background of digital marketing and e-commerce. It goes further to explore the concept of advertising funnel, entry-level marketer and e-commerce specialist job responsibilities, and the elements and goals of marketing and e-commerce strategy.
This is what you will find in this four-module course prepared by Coursera which comes with a shareable certificate that can be added to your CV or profile. Most importantly, every beginner and people with no experience in digital marketing can access this free course. Access the course here: Link foundations-of-digital-marketing-and-e-commerce
Hubspot Content Creation Marketing Certification - Hubspot Academy
Favour Nnenna once said, "The quality of your content determines the quality of your clients" and this is not cliché because content plays an essential role in the relationship with your leads and essential customers.
Most importantly, if your content is in sync with SEO's demands, then your content may have started becoming more useful to a larger audience.
However, this does not come by mere wishes. This free certification course from Hubspot teaches you how to become a content marketing specialist. Among other things, you will also learn how to create and reuse content, plan a long-term content strategy, create a content creation platform, generate ideas, and even produce quality articles or online posts. Access the course here: Link content-marketing
The Complete Digital Marketing Course - Udemy
This contains 12 courses in one. Udemy has put this course together to teach you how to master digital marketing strategy, social media marketing, SEO, YouTube, Email, Facebook Marketing, Analytics, and many more. As a course that's suitable for all kinds of businesses and digital products/services, it is highly interactive and celebrates learning by doing through the various steps, projects, and checklists that are built into every module. The complete digital marketing course is not free; the cost is €15.99/ €199.99
Access the course here: Link learn-digital-marketing-course
Digital Marketing Analytics: Tools and Techniques – edX
As a digital marketing course that can boost your career, this course exposes how to make data-driven business decisions by using real-world examples from different industries.
Beyond the 4 weeks duration it provides, you can also gain lifetime access, instructor moderated discussions, and post course interactions. You can access this course through the link below Learning partner to digital marketing
Google Digital Marketing and E-Commerce Personal Certificate- Google & Coursera
Seeing the need for digital marketers to up their game in digital marketing and understand the analytics of e-commerce platforms, Google collaborated with Coursera to create this course.
The course focuses on the basics of digital marketing and how the analytics of e-commerce platforms work. Fortunately, the course is so vast that it can't be finished in one sitting. Separated into seven different parts, you are certified individually for each part you complete and will also be given a general certification at the end of all the lessons.
Some of the skills to learn in the course include search engine optimization, advertising, e-commerce, email marketing, etc. The Google digital marketing and e-commerce professional certificate course is not free. For each month, you are expected to pay NGN 29,000/ 39.
Click on this link to access the course. digital-marketing-ecommerce
Hubspot's Inbound Marketing Training –Hubspot Academy
This is a free certification course that transforms your sales strategy. This course teaches how to attract, engage, and delight your customers with personalized outreach and exploratory conversations that drive results.
Anyone can take this course in one sitting, especially as its duration is just three hours and 12 minutes. It also contains 5 lessons, 22 videos, and 5 quizzes.
Knowing that this is a free course, small business owners, sales professionals, and sales managers who want to increase their sales and connect to more of their target buyers, among other things, can take the course. Access the course here: The link. academy hub
Content Writing Masterclass- Copyblogger
This master class houses lessons that teach you how to build an engaged and ready to buy audience through your writing. Some of the lessons you can learn in this course are crafting impactful drafts, editing process, faster writing, fixing writing, and differentiating yourself from your competitors. With 149, you can access this course and learn valuable lessons. Click on this link to access the course. masterclass-content-writing
Copywriting for Beginners- Skillshare
These online classes help you to learn how to write to convince and sell. The course contains 17 bite-sized videos which will teach you how to write headlines, testimonials, subheadings, and more to build trust with your audience.
An amazing thing about this course is that it gives you fill-in-the-blanks writing templates that enable you to write your headlines and share them on the class dashboard for evaluation, feedback, and encouragement.
This course gives you 14 days' free trial after which you are required to pay 15/month or 99/year. Access the course through this link. how-to-write-web-copy-that-sells-without-being-cheesy
SEO Toolkit Course- Semrush
The SEO toolkit course was developed by a team of industry-leading experts at Semrush with diverse marketing background. It offers engaging and up-to-date content tailored to the dynamic digital marketing landscape.
The course contains 14 modules that tear down the digital marketing barrier for beginners and everyone who wants to learn how to maximize SEO toolkit course to boost their SEO. The course is free and can be accessed through this link: SEO toolkit academy courses
Instagram Marketing Training Course- Hubspot Academy
Instagram marketing training course teaches you how to use Instagram for effective marketing. It's a free course that reveals how you can turn your instagram into a powerful marketing tool. Instagram fundamentals, how to optimize your business profile, develop compelling content that is visually appealing and engaging how to enhance your promotional strategy by exploring Facebook Business Manager to create Instagran Ads that drive clicks and conversions are some of the content of the course module. This course is for beginners, growing professionals, and even experts. Access this free course here: Courses instagram-marketing
YouTube Course: Learn how to grow your YouTube Channel- Hubspot Academy
As the years evolve, content creation has begun to leave the stage of writing only to videos and other forms of creations. This is why YouTube has become a vital marketing and content creation tool for 'Gen Zs' and will be more in the coming generations.
This course is designed to help you build your audience and brand on the world's second largest search engine. The course teaches you how to create engaging sharerable videos that are optimized for YouTube SEO, increase your video views and chaneel subscribers. You will also learn how to monetize your channel through ads and promotions.
Access this free course through this link: Hubspot Academy.
Meta Social Media Marketing Professional Certificate- Coursera
This course is all out to help you launch your career as a social media marketer. It also helps you to build job-ready skills for an in-demand career and earn a credential from Meta.
If Meta is useful to you for campaigns, this course will teach you how to create facebook and Instagram ad campaigns in the ads manager and drive profit.
The beginner-level lessons lasts 7 months at three hours per week. It also comes wit flexible schedules and digital marketing certification.
Interestingly, it doesn't require degrees or prior experience before you can get started and it's completely free. Access the course through this link: Meta Social Media Marketing
13. Digital Marketing for Writers- Skillshare
It has been discovered that writers need to learn digital marketing as much as businesses or business brands especially if they want to thrive in their chosen niche online.
This course teaches you how to determine your target audience, how to set up an online presence, and how to establish your voice and create a game plan. It also explores audience engagement and is most appropriate for beginners before all others. Access this free course through this link Digital Marketing for Writers
14. Google Ads Certification- Google
It's important to be familiar with all Google tools as a business or brand owner. This is because it has been discovered that paid ads are a major part of digital marketing and represent a big demand in the current market. This and more will be exposed during the learning process.
This course allows you to learn at your own pace and take the test whenever you feel like it. The course is free and would take just 4-6 hours of your time.
Access the course here: Google Ads Certification
15. LinkedIn Learning Marketing- LinkedIn
As you might have known, LinkedIn is a platform where professionals display who they are, what they do, and how they can help society through their products and services. LinkedIn is a large online training platform that is open to all, bringing together thousands of digital marketing certifications from marketing professionals who are fully qualified for their subjects such as digital marketing or social media marketing.
The course allows one-month free trial before you make your payment of 24.99/month. Access the course here: learn marketing for free
16. How to Use TikTok for Business- Udemy
Just like YouTube, TikTok is also slowly becoming a big deal in current times, unfortunately, not everyone is aware of the goldmine TikTok offers. This is why anyone hoping to grow their career needs to study how to market digitally through this platform. This is why Udemy has put this course together.
The course is available in English and lasts for an hour and 46 minutes. It's also not a paid course and does not offer certification upon completion. However, it has a paid version that offers a certificate after a successful study. Even though it's a free course without certification, it teaches how to create viral videos and design content for the platform's algorithm. It also teaches students TikTok walkthroughs and strategies. Access this course here: Tiktok marketing course
17. Mobile Marketing, Optimization, and Analytics- Coursea
This course teaches you how to identify mobile sales strategy elements, how to analyze and optimize efforts to improve business outcomes, how to develop a plan to meet advertising goals and objectives, etc.
This free course has been put together by the University of California and is suitable for Beginners, especially with its flexible schedule. Access the course here: facebook marketing course
18. Fundamentals of Digital Marketing- Google Digital Garage
This is a free marketing certification that explores thebasics of digitsl msrketing which enables the student to show the recruiters that they posses the requisite skills to work in any industry.
This is a beginner friendly cours and also appropriate for professionals who want to review the bascis of digital marketing.
For a duration of 40 hours, the fundamentals of digital marketing gives allowance for students to learn at their pace and also take the tests whenever they feel like it.
Access this course here: fundamentals of digital marketing google
19. Hootsuite Social Media Certification- Hootsuite
One of the worst things that can happen to any social media marketer is to have stale knowledge about the constantly changing social media platforms and tools that are efficient for businesses.
This is a certification that allows you to understand foundational social media marketing skills to grow your followers, boost your engagements massively, and gives you outstanding business results. This is for beginners, does not include advanced knowledge, and is also not a free course. See the next one to know more about the advanced version. Access this course here for social media marketing classes
20. Hootsuite Advanced Social Advertising Training- Hootsuite
Research reveals that both social media and paid ads make up more than half of all advertising dollars. This shows how important the course is.
Hootsuite has put this course together to teach interested students/participants the best practices for targeting social media advertisements, bidding and buying social ads, etc.
You need to get at least 75% at the completion of the exam to earn your certificate and even if you fail, you can still retake the exams as many times as possible until you pass them. Access this course through this link for: Advanced digital marketing
As an addendum, here's a list of online platforms where digital marketing courses are available either for free or for a fee;