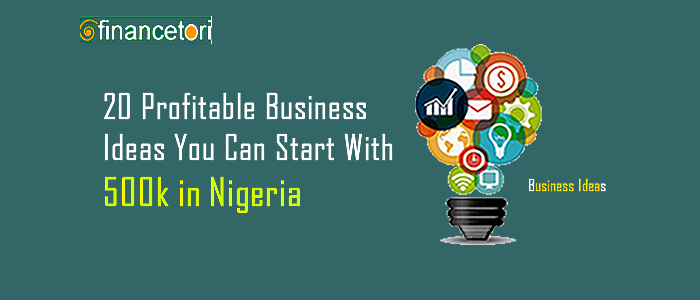 Imagine that you currently have 500k in your account, what kind of business would you have ventured into in Nigeria? Unfortunately, many Nigerians make the mistake of jumping into businesses without taking note of two very important factors which are; The amount of money that is available as capital and the kind of business that can be started with that amount. You need to know that even though there are many businesses that you can start with 500k, the businesses are still limited in number because the value in our currency has reduced and 500k is no longer what it used to be back in the day. Now that you have as much as 500k, what options are available for you? What businesses do you think can survive with that amount? Don't be in a hurry to leave, that's exactly what you are about to read; 20 businesses that you can start with 500k in Nigeria.
Printing/Stationery Business
Printing is a business that 500k can help you fund as a starter. It is one of the top lucrative business in Nigeria. This is not printing typed documents, rather, it involves making prints on materials like books, T-shirts, Banners, etc. You would need to buy a machine that's within your budget, and a few other pieces of equipment that you might need. The equipment may not be top-notch, but it can serve you until you establish yourself enough to buy bigger equipment. Getting a small space in a good location that you can manage and a source of power supply like a generator is also crucial. You can either use a space that's open to you for free or rent one. You can also add stationeries like pens, books, writing materials, bibles, and other things to your printing business. At least, if you're not painting for a customer today, you're selling something to them. However, don't forget that your budget is within 500k, so cut your coat according to your size.
Car Wash Business
These days, many Nigerians have cars, and with the rise of Bolt and Uber services, more people are purchasing cars. This is why a car wash business is something you should consider if you have 500k because you will be proffering solutions to people's problems. You only need to get a good space in an area where people with cars are populated, a close source of water, and some car cleaning equipment.With these, your business is set and you're ready to receive paying customers. This is a good example of the list of business ideas in Nigeria.
Food Business
This is something that could work for you if you have a passion for cooking. However, even if you don't enjoy cooking, and cooking is the only available business to do at the time, you may have to throw your reservations to the wind and give it a try because these days, Nigeria doesn't offer you what you want, you make the best out of what you can find in Nigeria especially when you're just starting amd this is the most profitable business in Nigeria with low capital
There are different kinds of food businesses you can decide to work with, but as you make your choice, you shouldn't forget the amount in your account. What kind of food business can 500k give you? You can start a local joint or a small eatery if you are in a city. You can get creative about it and think of special ways to get customers and keep them. If you can get a good space, one or two people who can help you out, and other cooking equipment including a few cooking utensils, then you are good to go. Whatever you do, don't forget to live within your means. Expansion will happen as you evolve.
Bakery
Just like cooking, you can venture into this if you love to bake. You don't need to do much because you can actually do this from the comfort of your home. With the money you have, you can buy the baking equipment that you need and start from your house, and this is the cheapest business to start in Nigeria. You can do home deliveries or drop them in a friend's store to help you sell. You can partner with churches and schools too. If you have an eatery, you can also add baking to it. You sell your baked foods with drinks to those who may not want to eat and make extra cash to add to the income you get from cooking. You can engage solely in baking or add it to the cooking business. Either way, you have a business within your means.
Online Stores
This is one of the easiest businesses to start with 500k and even less, and the most beautiful part of it is that you don't exactly have to pay for a store because of course, your phone is your store already. Choose a particular niche or line of business that you want to focus on. It could be clothes, shoes, bags, accessories, perfumes, jewelry, etc. It could be organic or even handmade products. The only things you need to have will be excellent delivery skills, a very solid online platform, effective supply chain management, and well-planned market strategies. One of the major and only things you may have to pay for will be if you want to create a good e-commerce website. This appears to be business ideas for students in Nigeria will cost you about 180k-250k depending on who is doing it for you. If you don't want this, you can use free Nigerian websites like Paystack or Flutterwave. If not, you can also decide to use your WhatsApp, Instagram, Facebook, or other social media handles to do your marketing. This is what many people will not tell you. You need to learn customer management too because people are crazy in this country and they will get you pissed beyond your control sometimes, and you also need to have something I call a "sixth eye" so that you won't be duped by suppliers or any other person. This is the one of the good business that can make you a millionaire in Nigeria.
Photography Studio
This is something you can decide to try.Itis is the best business ideas in Nigeria. Unlike in the olden days, photography has become more important in this age and time than it was back in the day. With 500k, you can get your photography equipment, get a good location, a shop, and then do your thing. The good thing about this is that you can also get money from attending events where you work as their photographer or videographer. That way, whether you are in your shop or you are outside, you're making money.
Mobile App Development
You should try this out if you are interested in tech. With 500k, you can create a mobile app development company. This is the business to do in nigeria and will enable you to offer app development services to individuals and even businesses. You might need to be good with coding languages, be very efficient at project management skills, and also get a team of skilled technicians who will make your work easy. Here, your major spending might be on equipment and human resources if you don't have friends who could join you as volunteers as a freshman.
Beauty Salon Business
An ardent researcher noted that the beauty market in Nigeria is projected to be around $34.5 billion as of 2021. This means that women spend a lot of money in a bid to look good. The services you can render with this kind of business range from hair styling/fixing, manicures and pedicures, general makeup, and others. This sector seems to be business ideas for ladies in nigeria have been dominated by women mostly, but the male gender has begun to break through in salon businesses. It is the one of the profitable business in Nigeria 2023. As long as you're good at what you do, you will definitely have people who will patronize you. You only need to get a good location, buy a few machines/equipment, hire the stylists if you don't have the skill, or hire help if you need someone else to stay in the store for you, and your business is ready to fly.
Barbing Salon
Just like a beauty salon, a barbing business is another business you can venture into with 500k. Almost every male in the world will have haircuts at least one million times before they finally leave the world. This shows that a barbing salon will always be relevant. It gets more interesting now that even ladies want to wear beautiful haircuts which give you a wide range of customers. You only need to learn this skill if you haven't acquired it or hire someone if you like. With your 500k, you can get your implements like your hair clippers, mirrors, chairs, etc. You also need to get a good location or even turn your house to your workshop, and get a good source of power supply, this is the one of the best business to do in nigeria.
Selling Fashion Items
You may not be interested in beauty salons, but you could be interested in selling fashion items. You can sell hair accessories, jewelry, attachments, etc. All you need is to get a good location, find a wholesale store to purchase your wares at a good price, and then start your business. The businesses to start in Nigeria and good thing about this particular business is that you can own a physical store and an online store side by side without having one lose out on the other. You get to earn from your physical customers and online customers too.
Academic Tutoring or Special Learning Centers
Many parents want to get academic tutors for their children these days, especially in subjects that seem hard like mathematics or other special subjects. Apart from academic work, parents also want their children to learn different skills or have multiple abilities like dancing. This is where you come in. Since you have 500k in your possession, you may just establish a tutorial center where you teach students or pupils as the case may be. Even if you are a teacher or you don't want to teach, you can advertise for teachers or people who like to teach, pay them a certain percentage of remuneration, and have them as tutors in your lesson center. So, parents send their children to you whether it's holiday period or not, and you solve their problems through your establishment. You don't have to spend so much to get this started. Once you get a conducive environment that could serve as a class/classes, and you've got a few teachers who can start with you, you only need to finally get materials like a whiteboard, markers, a few tables, and chairs, etc. which will not cost you more than 500k, that's if it even gets to that amount. You can also hire tutors in special areas to take dancing or singing classes, and the good thing about this, is best business to start in Nigeria is that you can do both at the same time and still be very effective in them.
Cleaning Services
These days, cleaning has gradually become a full-time job. This is because the days when people think that having a cleaner amount to laziness have expired. Now, many families need cleaners, and apart from families, organizations also need cleaners to keep their spaces clean, and other workspaces also need cleaners almost all the time. This is best business to start in Nigeria and is the one of reason why cleaning has become more lucrative as it stands. With your 500k, you can decide to start a cleaning agency that provides cleaning services for the categories of the people that were mentioned earlier. You need to get your cleaning equipment which may not cost as much as 500k to begin. You may not need an office as you start, but if the business grows and you need one, then it's perfectly okay. You can also hire more hands if you think you don't want to do the clean yourself. All they need to do is do the cleaning when you have clients while you pay them a certain percentage of the money you've received or whatever amount you agreed upon. Not hard right? Why not try this and make it work according to your means?
Boutique Business
This is another business you can start with 500k. You can decide to buy a few wears ranging from T-shirts to skirts, trousers, shoes, jeans, etc. You can sell fairly used wears or brand new ones. You may not need to get a store for this. If you are a student, you can sell your wears in your hostel or within the campus. You may also decide to get a store if you like. If you live in a very busy place, you can just get a good location where people can easily see you, and make that place your location. You can get a wear for as low as #1,500 to 2k or less and sell it for 3k and above depending on your location. You don't have to spend above 500k to get this business running.
POS Business
Gone are those days when people were willing to queue for long hours at an ATM just to withdraw money. Even if a person wants to use an ATM, the matter at hand may be so urgent that the next stop would be a POS attendant. Remember when Nigeria experienced the cashless policy quagmire? POS attendants became the next big thing that was waiting to happen, and from then till now, the POS business has been thriving in Nigeria. This is business that can make you a billionaire in Nigeria and a business that won't cost you more than 500k to start. Funnily enough, you don't even need to pay for a shop. Just get a good spot and make your moveable caravan, or get your table and chair, purchase a large umbrella, and start making your money.Get your POS machine from the bank and meet a trusted fellow for a few tutorials, and you will be absolutely fine with your new business.The busness have save alots of graduate and one of the offline business ideas in Nigeria
Sale of Cooking Gas
This is when you sell cooking gas to people. With your 500k, you only need to get a gas tank, a scale, a hose pipe, and dispensers, then you're good to go. 99% of people who live in your area make use of gas to cook especially if you're in the urban area. You will also need a good location and good customer service skills. As you grow in the business, you might decide to also sell gas cylinders and other gas parts. This is one of the list of lucrative business in Nigeria and will help you to get more customers and also increase your income. When you start enjoying the proceeds from your business, you may not even remember that you started it with 500k.
Daycare Centers
Due to the fact that many parents are very busy with their offices and the fact that some of these workspaces do not allow their staff to bring their babies to work, you can start a daycare center to ease them of their stress. That's a way of making money while solving people's problems, it is one of the 100 business ideas in Nigeria and . Do you enjoy taking care of children? You can get a very good space that looks conducive, furnish it considerably, and make it good enough for a parent to want to leave their child in your care.All of these won't cost you more than 500k even if you want to get a television. This is because you can get a good one for a low price especially if you want to get fairly used ones.
Phone and Computer Repair and Maintenance
A good technician who knows his onions around phone and laptop repairs will not need up to 500k to start a business. You just need to get a good location example, it is a lucrative business in lagos with small capital. You can either pay for a shop or decide to sit under a big umbrella with your table and chair just like the POS agent. Once you've gotten a few things that you might need, you are good to start your business.
Sale of Phone Parts/Accessories
You've probably seen people who sell power banks, screen guards, chargers, earpieces, AirPods, etc. You can join their line of business with your 500k. You can buy some of these accessories in considerable quantities, get a good location and start your business. If you don't want to stay in one location, you might want to consider getting a wheelbarrow which you will either stage at a spot or push around the street. .Whatever you choose, you definitely won't spend more than 500k to start this business.
Pet Grooming and Boarding
This involves getting pets like dogs, cats, or even animals like chickens, goats, rabbits, etc. You get these pets as babies and groom them. You can sell them as babies or decide to sell them in their adult stages. Also, you can offer to help people groom their pets or even take care of them. Since you already have your 500k, you only need to have a good knowledge of pet grooming care, a good facility that can be constructed with "a not-so-big amount of money", and some pet grooming equipment depending on the pets you have in mind.
20. Fitness Activities
This business involves offering gym services to clients. You will need to pay for a good location that will serve as your fitness center, get trainers who will assist you, buy some equipment, and make your facility inviting. You can also work as a fitness coach and tutor people who want to learn how to keep fit. The small scale business ideas in Nigeria and good part of this is that you can get this running with your 500k. These are 20 businesses you can start with 500k in Nigeria. While you're at it, remember that your ability to be prudent in your spending will go a long way in helping you to know what you're spending on. It's okay to desire to start big, but considering that you have only 500k, you might want to discipline yourself to stick to your budget and expand as you earn so that you don't run into debt as a freshman in business.
Inconclusion, the path to financial independence and success is within your grasp, fueled by the entrepreneurial spirit that thrives in Nigeria. In this article, we've unveiled 20 lucrative business ideas that you can kickstart with just 500k Naira. From agriculture to technology, from beauty to real estate, these possibilities are a testament to the diverse potential that Nigeria's market offers. As you embark on your journey, remember that success requires determination, innovation, and the willingness to adapt to changing dynamics. Each of these business ideas presents a unique set of challenges and rewards. Your passion, dedication, and willingness to provide value to your customers will be the driving forces behind your venture's growth. Nigeria's business landscape is vibrant and teeming with opportunities, waiting for bold individuals like you to make your mark. Your investment doesn't just translate to financial gains; it's also an investment in yourself, your community, and the economy at large. By offering valuable products or services, creating jobs, and contributing to local development, you become an integral part of the nation's progress. So, whether you're an aspiring entrepreneur or someone looking to expand your horizons, seize the moment. The possibilities are boundless, and your potential is limitless. As you take those first steps towards your chosen venture, remember that challenges may arise, but each obstacle is a chance to learn and grow.
Armed with determination, resilience, and the insights shared in this article, you're ready to turn your dreams into a reality that surpasses your expectations. The journey won't always be smooth, but with unwavering commitment, the 500k Naira you invest could be the foundation of a thriving, prosperous future. The time to begin is now – the Nigerian business landscape is waiting for you to make your mark. Here's to your success, your innovation, and your unwavering spirit as you embark on this exciting entrepreneurial journey. Nigeria's future is brighter with each new business endeavor you bring to life.