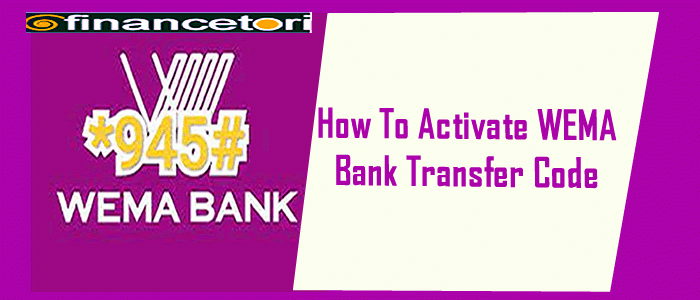 What is Wema Bank Transfer Code?
There was once a time where any and every transaction required your physical presence at the bank, and the queues never seemed to end. Thankfully, bank codes have come to the rescue, and all of those experiences are now stories of the past. From the comfort of your bedroom and in your PJs, you can move funds…and receive funds too.
WEMA Bank USSD codes are available for use for every WEMA bank customer and in this post, we'll provide an all-encompassing rundown of the Wema bank transfer code, including an explanation of why the USSD codes are important and can come in handy.
What is a *945#?
*945# is the official USSD code for WEMA Bank USSD banking – Banking without the internet. With this USSD banking service, you can carry out daily banking transactions with ease from the comfort of your mobile devices. It is easy, fast, and reliable.
Features Od Wema Bank USSD Transfer Code
Things To Know About Wema Bank USSD Transfer Code

This service is open to MTN, Glo, 9mobile, and Airtel subscribers.

The USSD code is only open to Wema bank account holders.

To use this service, you must have an active phone number registered in your bank account.

This service is available 24 hours every day. Meaning, even at really odd hours, you can still use this service.
Why are USSD codes important?
Unstructured Supplementary Service Data (USSD) codes, also known as quick codes, are back channels for hidden features available on your smartphones.
They give direct access to the service provider via the use of the phone's dialer. A good example is checking the account balance of your phone.
And in terms of banking, USSD performs the same function, but in this instance allows you, the bank customer, to directly communicate with your bank account without you having to go to the bank.
How to Activate WEMA Bank USSD Code
Activating the Wema Bank USSD code makes it easy for you to carry out transactions on your phone using a preset password or PIN. This password or PIN will be needed in validating money transfers, and any other transaction including bill payment, ET Cetera.
To activate your code, you need to register and generate a pin. Kindly follow the steps below;
Dial *945*5# and

Follow the onscreen instructions.

Provide the information required such as account number,
date of birth, new pin, and confirm new pin.
After the pin has been created, you can begin USSD banking transactions.
NOTE – This option is only valid for existing Wema Bank account holders.
Wema Bank USSD services and their codes
Here is a few Wema bank USSD code you will find very useful often:
Transfer Money: *945*beneficiaryaccountnumber*amount#

Buy Airtime: *945*phone Number*amount#

Balance Enquiry: *945*0#

Change PIN: *945*00#

Get your Account Number: *945*000#

Open Account: *945*1#

Change Account Number: *945*2*oldaccountnumber*newaccountnumber#

Account Reactivation: *945*5#

Send Money to phone: *945*6*amount#

Quick loan: *945*65#
Read more about Wema Bank USSD Codes
Wema Bank USSD code for Loan
The WEMA bank code for a loan is *945*65#.
How to activate your WEMA bank transfer code
To enjoy the benefits of the USSD code as a customer of WEMA Bank, you need to activate your USSD code. Kindly follow the steps below to get your Wema bank USSD code activated:
Dial *945# on the mobile number that is connected with your WEMA Bank account. This is the same number used for transaction alerts.

Follow the prompt that shows up on the screen and choose the option to proceed to activation.

Add your bank account from which you want to make transactions.

Set a PIN.

Confirm your PIN to complete the activation process.

You're good to go
Go ahead and enjoy your activated WEMA Bank transfer code, with the unlimited transactions it offers, at the comfort of your home.
*945# Wema Bank USSD Codes
For those times when you need things done fast without the internet, *945# USSD Codes always saves the day. It is a USSD codes for sending money, buying airtime and data, paying bills, and even making payments on POS terminals without a Wema/ALAT card. Best of all, it works on any kind of mobile phone. Banking made easy with *945#
*945# USSD codes
Account Management Codes

Airtime, Data, and Transfers Codes

Quick Loan Code

Cable TV Codes

Internet Service Codes

Electricity Bill Codes

Schools and Exams Codes

State Collections

Cardless Transactions

Account Management
Account balance *945*0#
Change PIN *945*00#
Change primary account *945*2*oldacctno*newacctno#
Account opening *945*1#
Account Registering on 945 *945*01#
BVN management *945*4#
Account restriction *945*911#
Airtime, Data, and Transfers Codes
Airtime (self) *945*amount#
Airtime (others) *945*phoneNo*amount#
Airtime/Data - *945*9#
Transfers (Wema account and other banks) *945*accountNo*amount#
Quick Loan Code
Loan *945*65#
Cable TV Codes
Cable TV menu *945*10#
DSTV *945*11# and *945*11*smartcardNO #
GOTV *945*12# and *945*12*smartcardNO#
Startimes *945*13# and *945*13*smartcardNO#
Internet Service Codes
Internet service menu *945*15#
Smile *945*16#
Spectranet *945*18#
Electricity Bill Codes
Electricity bill *945*24#
Eko *945*25*meterno*amount#
Ikeja *945*26*meterno*amount#
Ibadan *945*27*meterno*amount#
Abuja *945*28*meterno*amount#
Enugu *945*29*meterno*amount#
Jos *945*30*meterno*amount#
Kaduna *945*31*meterno*amount#
Kano *945*32*meterno*amount#
Portharcourt *945*33*meterno*amount#
Schools and Exams Codes
WAEC (result checking) *945*70#
JAMB (result checking) *945*71#
State Collections
Lagos state collection *945*40#
Cardless Transactions
Mcash *945*57# and *945*57*merchantcode*amount#
Coralpay *945*58# and *945*000*REFno#
Read *945# loan Terms and Condition here
Conclusion:The article has narrated the uses of USSD code, features of using WEMA bank USSD code, *945#, and simple steps on how to activate USSD code. WEMA Bank USSD codes are available for use for every WEMA bank customer and has made the transfer seamless even at your comfort of your zone. We hope that this article has explained some things you wish to know about this WEMA Bank USSD service.