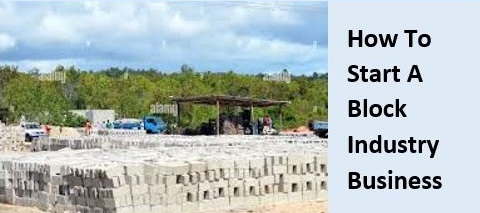 Are you considering starting a block industry business in Nigeria? Do you want to start a block industry and sell blocks?
In this article, I will tell you everything you need to know about starting a block industry business in Nigeria. I will tell you how profitable the block industry Business is, how you can become a distributor of blocks, and how much money/capital is required to start a block Business, among other things. It is a very profitable business, and millions are made from it.
How Profitable Is The Block Industry Business?
For a variety of reasons, the block industry business is a highly profitable one. Just Because the real estate business is popular, there will be a high demand for blocks, and blocks are a major material used in building houses, unlike in developed countries where other materials such as iron, concrete, wood, or even plastics are used to build houses or sky scrapers. In Nigeria, blocks are commonly used to construct houses. The block industry is a profitable business that can lead to becoming a labor employer. Block making is a good idea regardless of whether you are a graduate, literate or illiterate, a retiree or a business person looking for a profitable business to engage in. Everyone understands what cement block is used for, but not everyone understands the money-making potential of the block-making business. Millions can be made in the block industry business. I know someone in my neighborhood who owns a cement block company. People didn't take this person's business seriously when he or she first started. As if no one knew about the profit in the business. This person was able to acquire the small space in less than three years and then purchase another land, this time larger and massive. It improved his situation because the business began to generate a reasonable and he earn more money. What is more intriguing about this is that he doesn't go there very often. These individual employed workers in the industry while supervising and managing finances. Block industry businesses are businesses that you can run if you are interested.
Here Is How To Become A Distributor:
Make high-quality blocks. You are correct that in marketing, it is critical to deal with QUALITY; however, make certain that you do not train good quality for profit. There are also lives at stake because if your blocks are not strong enough, the building you construct with them will be weak, and you know what that means. So, by all means, avoid overmixing the cement and sands. You can be an excellent distributor. Here is a quick rundown. If cement is used every day to produce 500 o inch blocks, 10-12 bags are required. If the blocks are sold for N160, 500 blocks will sell for 80,000, and the total expenses that will produce that number, including laborers' wages, is 30,000 to 40,000. When you subtract that from 80,000, your daily profit will be around 40,000. Now multiply that by 30 days and you'll have a huge monthly gain. As a distributor, never underestimate the importance of block quality.
How Much Does It Cost To Start A Block Idustry Business?
The capital required to establish a block industry differs because most block industry owners in Nigeria choose equipment for their businesses. In Nigeria, for example, there are two types of blocks making equipment: manual block molding and vibrating machines. Small scale block industry businesses use manual block molders, whereas medium and large scale block industry businesses use automatic block molders. Businesses use vibrating machines to speed up the molding process. Manual block molders are reasonably priced. They cost between 15,000 and 30,000 dollars, while the vibrating machine costs between 120,000 and 700,000 dollars. Aside from that, you'll need money to buy other equipment, materials, and pay laborers. So, the average capital required to start a block industry business in Nigeria estimated to be run in millions.
The following are a few steps to help you get started in the block industry business.
Create A Business Plan For A Specific Industry.
Because the block industry business in Nigeria is capital intensive, you cannot afford to take risks in the business. If you are serious about starting a business, you should create a good plan and test its feasibility.
Obtain The Reqired Capital.
How to obtain the capital required to launch a block industry One of the challenges in business is business. Do not borrow or lend money to begin this business; instead, use your own funds. If you don't have enough money to begin, save for it or simply wait until you can self-fund the business.
Purchase Block-Making Equipment And Material.
Shovels, manual block molder or vibrating machine, wheelbarrows, and other equipment are used in the block making business in Nigeria. Sand, cement, and water are the primary materials. Materials and equipment are crucial. Depending on your budget, you can buy new or slightly used ones.
Keep An Eye Out For Available Space.
You must have a space/land available to begin your block business. It is best if you rent land that faces the road so that your customers can easily see and reach you.
laborers are essential in a block industry business because you cannot do everything all at once and obviously cannot be everywhere. You'll need a laborer to help you carry blocks and other items. When it comes time to transport the blocks, they must be loaded into the truck. So, laborers are important, and their pay should be reasonable, ranging from $1,500 to $3,000 per day.
Begin Making Blocks For Sale.
The method you use to mix your blocks will determine how strong they are. Some are stronger because the cement used is sufficient, whereas others are weak because the block maker did not use enough cement. You must ensure that both your concrete blocks and regular blocks contain enough cement to entice customers to return for their durability. It may take up to 7 days after molding to begin selling the blocks.
Promote And Sell Building Blocks And Bricks.
When you begin making your blocks, you must advertise them so that customers can begin placing orders. There are numerous types of advertising that should work, and you should be aware of them. So, by any means necessary, keep it going.
Profits In The Block Industry Business
There are numerous methods for increasing your profit in this business. You can- Sell blocks to real estate companies to increase sales and profit. You could also sell other building materials like sand, granites, and a lot of Block industry Business is indeed a very profitable and successful business.
Conclusion:As a block industry Business owner, it is very important to manage the administration interface of the Business so that it grows in mass. Having read through the article, you can say for a fact that block industry in Nigeria is very profitable.