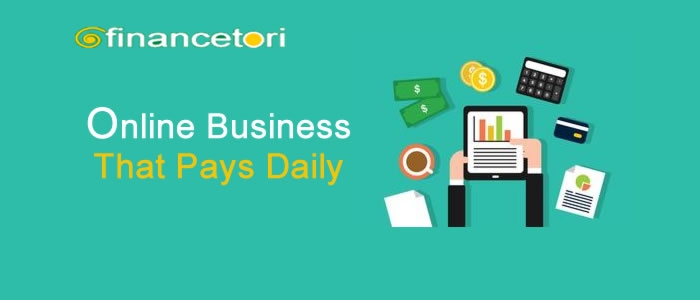 Imagine you are an employee in an organization, or you work a 9-5 white-collar job that keeps you glued for 31 straight days only for you to be paid peanuts at the end of the month. It's even more frustrating when you need money for other things during the month but it's either you can't do them, or you have to borrow from someone because there's no way you can get money if the month is not over.
If you can relate to this, then there's good news for you. Instead of waiting for the month to end before you can get some amount of money that may not even be sufficient for your needs, why not consider these online businesses that can pay you daily if you are good at them?
Disclaimer!
This is not an encouragement for you to engage in Ponzi schemes that will drain your pocket; rather, these are legit work opportunities that allow you to get remunerations for work done especially for services you provide to clients online daily.
An online business is any business that takes place on the Internet and makes money for you. This means that you only need your electronic devices especially your phone and your PCs to get your business running.
Online business helps you to get daily income and one of its major benefits is that you can work from home or wherever you are, and you can enjoy a flexible schedule.
Research reveals that online businesses expose you to two kinds of income which are active and passive income. Active income is a type of income that you get for performing and completing a task while passive income is the remuneration that comes to you with or without working. What the latter means is that you have already created an online business that makes money for you even when you are asleep.
In the list below, you will find online businesses that can bring you both active and passive incomes if you have your phones and electronic gadgets.
20 Online Businesses That Pay Daily In Nigeria
1. Graphic Designing
2. Social Media Handling/Management
3. Online Tutoring /Coaching
4. Selling Digital Courses
5. Book Writing/E-book Creation
6. Web Design and Development
7. Mobile App Development
8. Content writing
9. Content Creation
10. Video Animation
11. Freelance Writing
12. Virtual Assistance
13. Ghostwriting
14 Book Publishing
15. YouTube Channel Creation/Vlogging
16. Influencer Marketing
17. Proofreading and Editing Services
18. Online Consultancy Services
19. Digital Marketing Services
20. Crypto Trading
Graphic Designing
This is an online business that pays without any prior financial investment. A graphic designer creates and designs fliers, banners, book covers, or any kind of visual designs for brands and companies to advertise their products.
Being a high-income and highly demanded skill, a graphic designer can get clients both internationally and locally who pay him for every design he or she delivers to them especially when that designer is good at what he does. It is a good online business ideas
Social Media Handling/Management
Social media handling involves working with influencers or people who do not have time to handle or manage their social media pages across all social media platforms. Due to their inability to do this on their own, they will require the services of social media managers to help them do the work.
This is where you come in. As a social media manager, you are employed to reply to their messages on social media, create posts on their timelines, regulate their activities on social media, and carry out any other work that is required of you on those pages.
Of course, you won't be doing this for free. Before the work commences, you have to agree on a price with your employer which you will be getting after the work is over.
Imagine that you are handling or managing the social media handles of about 5 or more different clients, wouldn't you be getting your cool cash at the close of each day's work. This is a typical online business work from home.
Online Tutoring /Coaching
A tutor or coach is someone who teaches another or guides him on a particular thing or niche until the person becomes perfect at what is being taught.
This can be done online as much as it can also be done offline and the advantage of doing it online is that distance will not be a barrier when it comes to getting clients or gathering as many students as possible.
You don't need any capital or investment to start this business. All you need is a skill. Find that thing you are very good at and teach your audience. It could be an academic subject like English and mathematics, or other skills like graphic design, content writing, etc.
You can charge as low as N5000 for a class and each person pays this amount or even more. This will surely make your phone ring with daily bank alerts.
Selling Digital Courses
This is one of the best online business which is like tutoring and coaching but the difference is that in tutoring and coaching, you do it with your students, but when you create courses, you do it for them and allow them to learn on their own. This have proven the a sure ways to make online money from home. You can create a course on any skill of your choice and put it up for sale. Most of these courses cost up to $5 -$50 or more depending on the value you have packaged in them.
Book Writing/E-book Creation
More books are coming into the limelight as the years evolve. You can package your expertise in any skill of your choice into a book or write about any issue you might like to address. This will require a lot of research and mental work, however, the money you will get if you do it right can serve as compensation to you in the end.
The best part of this is that after everything, you have two great achievements to yourself; you have successfully added the author badge to your name, and you are entitled to daily bank alerts even while you sleep.
Selling digital courses and book writing/e-book creation are major examples of passive income.
Another advantage is that you don't have to publish your book in print. Just put it in an e-book format and put it out for sale.
Web Design and Development
The world has gradually become digital, which is why every serious business needs a website. This is why the services of a web designer/developer is always useful, also it is more of internet businesses.
All you do as a web designer or developer is design and develop websites for clients who pay you for your services. Some platforms offer free resources that can teach you web development and help you to hone your skills.
A web designer/developer charges as low as N180,000 for each job to be successfully delivered. Isn't this a business you should consider?
Mobile App Development
This is the age where several apps are being developed by techies as apps are becoming very important. These apps help to solve problems and make life easier for people. As long as you have the right skills you can develop as many apps as possible for the right people and just like web designing/ development, you can get a lot of money from designing just one app.
Content writing
This skill involves writing articles for specific reasons. As a content writer, companies can hire you to write content for their brands. After writing each content, you get paid for your work.
This can bring daily income to you especially as the money you get depends on the number of contents you are able to write.
The good thing about this is that it helps creating an online business and you can become an official content writer for more than one company or brand.
Content Creation
Content creation is a broader field of content writing. In fact, content writing is a branch or type of content creation.
As a content creator, you go beyond content writing to create videos, graphic designs, podcasts, and generally seek quality content that can engage the audience of the brand that hired you on social media.
Once you can create great content online, brands will be willing to pay for your services which will enable you to get daily income from your skill.
Video Animation
This entails using a video to enhance and illustrate a narrative or topic. It involves creating video content through visuals, motion graphics, drawings, and art.
As a video animator, you just need to create video content in the format with your phone or PC for clients to publicize their business, book, courses, or any digital product you can think of.
This is not a free job, so clients have to pay you for your services. A good video animator can get clients who pay for every service daily in Nigeria.
Freelance Writing
This is an online business where you offer services on platforms like Fiverr, Upwork, or other freelance sites to a wide range of local and international customers for a fee. There is no limit to the service you can offer but for this purpose, you are offering writing services.
These clients may never get to meet you in life, but they will be willing to pay you while you work on various projects for them. Try freelance writing and enjoy a life of making money daily.
Virtual Assistance
A virtual assistant provides professional administrative, technical, or creative assistance to clients remotely (online). This is simply working as an office assistant only that this one is done online.
Virtual assistants get paid for their services and this pay can be daily or monthly as the case may be.
Ghostwriting
Ghostwriting is a business whereby experts, businesses, or people who are not very skilled in writing hire skilled writers to create attractive materials like e-books, books in print, reports, guides, etc. for them.
As a ghostwriter, all you need to do is to get clients who need your writing services, work on their book projects, and get them to pay. It is a new online business, and For ghostwriting, you must understand that you are not to disclose to anyone that you wrote the book. In fact, you will be required to sign a Non-Disclosure Agreement (NDA) which is a legal document that binds you to keep silent about the person who wrote the book.
This is because the book carries the name of the client as the author even though you are the one who wrote the book on their behalf.
Ghostwriters charge as low as 80-100k for one book project and as long as you keep working, your money keeps entering your account.
Book Publishing
This is one of the online businesses that require investment to start. It entails working with a client on their book project most times from start to finish. A publishing company helps clients to edit their manuscripts, design their book covers, publish their books, and also helps with the marketing and distribution all for a fee.
You may need investment if you want to have employees that you will pay to work for you, but you can also start without any investment if you have the necessary skill set. You can provide volunteers who will serve as interns in different capacities like editing, graphic designing, etc.
Book publishing is a wholesome package and can bring money to you daily if you know your onions.
YouTube Channel Creation/Vlogging
A few days ago, Facebook notified the public that Nigerians are now eligible to get paid on Facebook if their video content meets certain requirements. This shows that video content is gaining more popularity. Starting a YouTube channel or posting video content on Facebook can bring daily alerts to you if decide to monetize it through ad revenue, sponsorships, and merchandise sales.
The deal is this; the more people you reach with your content, the more money you get.
Influencer Marketing
Many people have very large numbers of followers on their social media pages or handles but they do not use them for anything. If you have massive followers on your social media handles, this is how to get paid daily for it.
Look out for people who want to advertise their products or services and help them to run their ads on your page. That makes you an influencer. Make use of your social media handles to market people's products and collect their money in exchange. Once they start seeing results, others will keep coming.
That way, you get money by just posting people's fliers or products on your social media handles.
Proofreading and Editing Services
If you are a good writer and you can pay attention to tiny details, then this is for you. You can get daily income by proofreading and editing the manuscripts of clients, turning their manuscripts into powerful books that will wow their audience.
How do you do this?
Just brand yourself properly as one who is good at proofreading and editing. Ensure you have mastered the craft, charge your clients for each manuscript you work on, and watch your phone ring daily to alert tunes.
Online Consultancy Services
If there is any niche or area of specialization that you are an expert in, you can get paid daily by providing consultancy services to clients online.
People who need clarity sessions in your area of specialization can consult you to advise them on issues around your area of expertise for a fee. This brings money to you daily.
Digital Marketing Services
Your major role as a digital marketer is to leverage social media and other internet platforms to promote products and services. You can do this through email marketing, content marketing, search engine optimization, and social media marketing.
This is one of the ways to make money daily online. Just market people's services and products online. If you have results, you will be paid.
Crypto Trading
Many people may not like to hear about this because of the risks involved and the fact that many scammers have dominated this space.
However, with the right knowledge, and the right platform, you can successfully buy and sell digital currencies. Research shows that people with good market analysis and risk management skills can get the best out of this online business including daily income.
Conclusion, there are several online businesses that can give you daily income, the list is inexhaustible. However, as beautiful as this sounds, you must take note of a few important factors to become eligible to get daily income from any online business you venture into. Some of the factors include.
Learn the skill and be good at what you do.
It will be disastrous to get clients based on who you say you are and lose them just because you don't measure up. Learn that skill properly before turning it into a business.
The online platform matters a lot.
Online businesses like freelancing and crypto trading require utmost carefulness. Some online platforms are littered with scammers. Be careful of what you choose and the platforms that host your online business.
Learn the pricing/charging technique for your industry.
If you do not know how the people in your niche charge, you will either overcharge or undercharge. You need to be sure of what they are doing to know how to run your own business. Don't be a lone ranger. Get a tutor and learn the ropes before venturing into any business.
Careful adherence to these tips will give you an edge in the digital economy where you enjoy the privileges of getting paid daily from your online business.