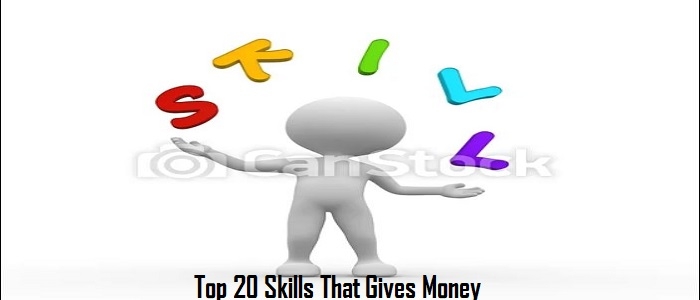 With the country's current economic situation, unemployment is spreading further, with thousands of people out of work. It is a good idea for everyone to have at least one or two skills. Learning a skill allows you to be your own boss rather than working for people who can only pay you chicken feed. In recent years, there have been a plethora of skills that you can learn to avoid the traps of unemployment after school, low pay, or work palava. Some of these abilities are technical or IT in nature, while others are vocational in nature. Vocational skills are abilities that you can learn and practice. You physically express your knowledge. Catering, fashion design, welding, barbering, and so on are some examples. IT-related skills are those that require the use of a computer. Knowing this, there are a number of 20 profitable skills you can learn and earn a good living as a Nigerian.
Blogging
Bloggers upload the majority of what we search for on Google. Blogging is one of the most profitable skills in the twenty-first century, and it pays well. Though it is quite technical, the average blogger earns more than $100,000 per month. You must first learn how to design a blog or hire someone to do so for you Bloggers are thought to be problem solvers. They make money through advertising platforms such as AdSense, Adsterra, and Propella, which display various advertisements on blogs. Bloggers such as Linda Ikeji and Tunde Ednut are well-known in Nigeria.
Graphics Design
I'm sure you've heard of this before. Graphic design is a great I.T skill that is both flexing and stress-free. As a graphic designer, you will use your smartphone or laptop to create banners, posters, advertisements, flyers, and images for clients. You charge people based on the designs they want, up to $10,000 per design. Graphic design is a highly profitable skill that can be learned in 6-12 months.
Snail Farming
Despite the fact that some cultures forbid the consumption of snails, a large population of Nigerians enjoy meal/dishes prepared with snails. According to records, close to one billion naira is earned from exporting snails to other countries, and 70% of snakes are caught in the bush This means that the snail business is still untapped, and many people undervalue snail farming simply because they are unaware of it. You can learn about snail farming on YouTube and then begin small.
Content Creation
content writers are those who put solutions into written form. In reality, they dolce written content problems. Content writers write everything from blog posts to articles, reports, news, and magazines. It is a creative tech skillthat you can learn as a university student or as a graduate. Fiverr and Upwork are two digital platforms where owners of these skills can monetize them by finding clients who require Content.
Videography
Because most major events in Nigeria are filmed for historical purposes, videographers are required to capture events live or from start to finish. Videographers earn hundreds of thousands of dollars because demand is high and there are few videographers in Nigeria. A skilled videographer is also employed in film production, wedding coverage, and business meetings. It is a soft skill for people who want to make a lot of money with their soft skills.
Aluminum and Glass are Both Useful.
Without this, a building's construction is incomplete by assisting people in repairing aluminum doors, windows, and glass. Aluminum and glass artisans can make a lot of money. A friend will always refer you as a good one if your work is always fine and neat. As a result, your work literally speaks for you, earning you more money and patronage. This takes less than a year to learn, and yes, men, women, and students can all do it.
Making and Repairing Shoes
You should learn this lucrative skill. Nigerian shoemakers have recently upgraded to making replicas or the same design as Italian... A pair of corporate shoes currently costs at least $20,000 USD. The good news is that people have a strong desire for high-quality footwear, so the market is large enough to accommodate everyone.
Affiliate Marketing
Affiliate marketing entails selling other people's products online or in person while earning a commission on each sale. Many Nigerians who work online understand affiliate marketing, which you can learn from. Yes, for those of us who have heard about affiliate marketing but are unsure what it entails, affiliate marketing is simply a marketing arrangement in which an online retailer receives a commission. Affiliate marketing programs can also be found on websites like Jumia, Expertnaire, Udemy,Selar,and others. https://app.expertnaire.com/product/6964721374/7328612759 This is for affiliate marketing purposes. You can sign up for them and begin selling and advertising on social media. Though it is recommended that you first learn from an expert or attend seminars and workshops.
Carpentry/Furniture
I doubt there is a single house in Nigeria that does not have carpentry work on or in it. Either the roofs or the furniture inside the house are made of wood. Essentially, carpentry should be devalued. Essentially, carpentry should not be undervalued. It is one of the most profitable labor skills. Furniture work, on the other hand, is nearly identical to carpentry. The only difference is that furniture uses designs made of various materials such as foam and paint to make the work look beautiful.
Photography
Nigerians are now obsessed with photography, with most people taking new photos on special occasions such as birthdays, weddings, and graduations. They are always taking pictures to keep memories of past events alive. As a result, when it comes to high-income skills to learn in Nigeria, photography comes highly recommended. You can learn this within the space of six months or less, very lucrative
Painting and Drawing
This is a goldmine for me because it is a foreign skill that can be done anywhere.
People have such a strong desire for artworks that artists make a lot of money from painting and drawing. When mastered, a skill and take can take you places and make you a big bag. Most complex artworks sell for more than a million naira. Simply mastering it will benefit you greatly. The benefit is that anyone, talented or not, can learn it; it is a skill that can be learned and earned.
Designing and Developing Websites
Another high-paying skill to learn in Nigeria is web design. It is one of the easiest skills to learn in Nigeria and begin earning money from the comfort of your own home. All you need to do is learn this skill online or at a computer training center in your area, get qualified, and start marketing yourself, and customers will start flocking to you. This is because there is a new push for businesses to go online for a variety of reasons. Aside from that, young adults and students are getting into the blogging business to make money these days. All of these people will require your professional services, so make yourself available. Web design is one of the most lucrative skills to learn because you can work and earn money from anywhere in Nigeria.
Vulcanization
Vulcanizing was previously considered a skill for the poor and illiterate. But times have changed, and more brands of vehicles with various types of tyres are being manufactured on a daily basis. Some of these vehicles, like other tyres, are very expensive. People are now making a lot of money by repairing, patching, and pumping tires. It is a skill that is greatly undervalued in Nigeria because the majority of those who practice it are illiterates, but if you are educated, you can learn to rebrand and monetize it because those guys earn more than most people can imagine.
Social media management
Social media management is not a popular skill in Nigeria, but it is lucrative because it is highly flexible and allows you to work from anywhere and at any time. You can also make money if you know how to manage multiple individuals' and businesses' social media accounts at the same time. Because social media management is all about building a good brand for businesses or individuals, you only need to answer questions and share posts related to your customers' profiles to start smiling to the bank. You can learn social media management on your own or from a more experienced bank employee.
Poultry Farming
or hardworking and dedicated individuals, this business is a goldmine and extremely profitable. Raising chicks (both domestic and exotic breeds) and selling them when they reach maturity. The benefits of being a poultry farmer are numerous; you earn money when you sell your chicks. When they lay eggs, you earn money, and their excrement is also required by farmers as manure and fertilizer manufacturers. Owning poultry may cost you thousands of dollars to set up but the business is extremely profitable.
Tutoring/teaching Skills
Tutoring is another excellent skill in Nigeria that can earn your millions in a short period of time, depending on your location and how well you present yourself. You can earn up to 100,000 Naira per month doing lessons or tutoring children in affluent areas of Nigeria. You must first learn how to tutor, and in order to do so, you must first obtain some qualifications. These credentials could be either vocational or educational. Following these qualifications, you can seek guidance from anyone who is skilled at teaching, and once you have completed your studies, you can begin teaching children in any field you choose. Tutoring has been proven numerous times to be one of the most profitable skills you can learn as a young person or student in Nigeria to earn money.
Event organization/management
People in Nigeria, regardless of their circumstances, love to party. People want to commemorate special occasions such as birthdays, weddings, graduations, Thanksgiving, and other holidays. Event planners make a lot of money for these occasions. They organize and plan everything, including decorations, order of celebration, and item 7, and are compensated for assisting celebrants with all these tasks.
Copywriting
Copywriting is a highly profitable digital skill. Copywriters create copy that sells and converts. They make thousands of Naira per month by simply assisting people in marketing their businesses through mind-blowing and convincing texts. As simple as it sounds, many large corporations pay millions of dollars to copywriters to help them advertise their products.
Fashion/Tailoring Design
As new types of fashion emerge every day, fashion designing/tailoring stands out as one of the most lucrative skills you can learn to earn a good living in Nigeria. A typical fashion designer/tailor charges up to 5000 per garment, while professionals charge up to 100,000 per garment. Customers will be looking for your services everywhere if you learn well and sow well.
Catering and Baking
Caterers are also among the highest-paid artisans. Regardless of how soft it is, an average caterer will charge up to 50,000 to prepare food for a wedding ceremony, depending on the number of guests. A caterer's services are required for a variety of ceremonies, including naming, weddings, Christmas, and other festive occasions. As a Baker, you can bake bread, cakes, and hamburgers, especially for weddings, birthdays, and other special occasions where the services of a baker are required.
Conclusion: Having gone through the above listed skills, it important to pick any one or two if it is to learn and in turn earn as a Nigerian. Some of these artisans earn more than White collar jobs so you should know skills are very good and profitable Finally, everyone should have at least one or two skills. It is a critical step toward eradicating unemployment in Nigeria.