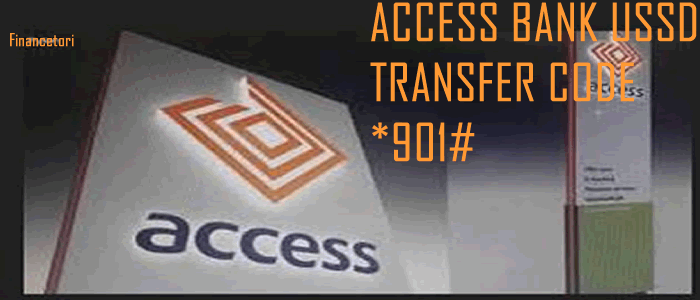 Access Bank Plc. is a leading banking and financial services provider in Nigeria. They have grown to become one of the most renowned and richest banks in Nigeria, thanks to their merger with Diamond Bank in 2019. It is only normal that they must provide seamless services that keep them on the top of the pile if they wish to remain there, and one of such service is their USSD transfer code platform. In this piece, we will be answering certain questions as regards Access Banks USSD service. Without much ado, let's delve into the substance of this piece.
What is Access bank's USSD code?
Access bank's USSD is *901#
What are the advantages of the Access bank transfer USSD code?
See advantages of Access Bank's USSD service include:
It is fast and reliable

It comes with no data cost (Service charges do apply)

It is convenient to use anywhere and anytime of day

It can be used on any type of cellphone
Access bank's *901# codes and their transactions.
| | | |
| --- | --- | --- |
| | Access Bank Code | Function |
| 1 | *901*Amount# | To buy airtime for self |
| 2 | *901*3# | To pay your bills such as DStv, GOtv etc. |
| 3 | *901*6# | To open a Diamond Xtra account |
| 4 | *901*911# | To deactivate your USSD profile and blacklist your account (Fraud Prevention) |
Access bank unfortunately doesn't have a lot of short codes for quick transaction, however various transactions can be accessed via the *901# short codes and following the relevant prompts
How to activate the access bank USSD Code?
You would only need to activate the USSD service if you are a new Access bank user or haven't done so since opening an account. To activate the USSD service, you simply:
Dial *901* with the number registered on your access bank account

Provide all details requested such as bank account, BVN etc.

You will be asked to create your 4-digit pin

You should receive a message of congratulations afterwards
How to transfer with access bank code
Dial *901#

Select Option 2 from the list that appears

Follow the prompts till you finally put in your pin
How to use access bank code to check balance?
Dial *901*

Select option 1 from the list that appears

You will see a notice that your balance will be sent by text
How to recharge your phone/buy airtime using the access bank code?
For self:
For others (3rd Party):
Dial *901*

Select option 3 from the list

Select option 2 from the list

Follow the prompt for the desired amount and phone number.
How to register and reset access bank transfer pin
To reset your PIN:
Dial *901#

Select option 4 on the list

Select option 5 on the list

Follow the prompt requesting your account number and other details.
How to deactivate your access bank account using the USSD code?
In order to curb fraudulent activities, Access bank has made it possible for you to deactivate you account where necessary. To do this
Dial *901*911# (From any mobile phone at all)

Input the phone number linked to the account you want to blacklist
20 other Frequently asked questions about the *901# service and their answers
WHAT IS *901#?
*901# is a USSD code unique to Access Bank which enables you to perform some banking activities via your mobile phone without an app or data.
WHO CAN USE THE *901# SERVICE?
Anyone with an Access Bank account or willing to open an Access bank account can use the *901# service
WHAT ELSE DO I REQUIRE TO ENJOY THIS SERVICE?
Well, you basically would require a
Mobile Phone (Doesn't have to be a smart phone)

An Access Bank account with some fund

Airtime balance (In case or network service charges)
HOW MUCH DOES IT COST TO GET *901# SERVICE?
The application is absolutely free. However, network charges apply
ELIGIBLE ACCOUNTS ON *901# BANKING?
All Access Bank savings and current accounts are eligible
HOW DO I REGISTER FOR *901# BANKING?
Simply dial *901*0# with your registered number
You will be prompted to enter your account number
WHAT IS PIN?
PIN stands for Personal Identification Number. It is created at the point of registration and is used for authenticating transactions.
WHICH CARDS CAN I USE TO REGISTER?
Debit cards (Verve or Visa or any other card being issued by Access Bank)
HOW SECURE IS *901# BANKING?
The Access *901# Banking is secure as it requires registration and PIN authentication on all your banking transactions.
DO I NEED TO VISIT AN ACCESS BANK BRANCH TO REGISTER FOR *901# BANKING?
No, registration is done with your GSM phone as long as you have an Access Bank debit card and the number you used during registration
ARE THERE ANY LIMITS ON *901# TRANSACTIONS?
Yes, there are! For transfers it's N100,000 in 5 multiples of N20,000 (Daily)
For airtime purchase, it's N20,000 Daily
DOES *901# WORK ON VISAFONE NETWORKS?
No, it only works on GSM networks (Airtel, Glo, 9mobile and MTN).
HOW FAST IS *901# BANKING?
The *901# banking service is very fast. You could complete a transaction in 2 minutes or less, so long as you follow the right prompt.
CAN I STILL USE THE *901# SERVICE IF I ALREADY HAVE THE MOBILE APP?
Absolutely! You can use the mobile app or *901# service interchangeably, depending on which is more convenient for you.
CAN I PAY MY BILLS WITH THE *901# SERVICE?
Yes, you can, just follow the right prompts
IS THE *901# SERVICE THE SAME AS ACCESS KLOSA?
No they are not the same, the *901# service is a USSD platform to be used by you alone on your device but ACCESS KLOSA is a service mechanism whereby the bank has agents who operate as mini-stations closer to you, so you don't have to come to the bank all the time. Take is as something similar to Delegated authority (If you know what I mean)
CAN I APPLY FOR A LOAN THROUGH *901# SERVICE?
There are options on the *901# prompts for such, but they are almost always unavailable so I would personally say it's a no! It is always advisable to visit a bank branch for such service
CAN I USE ANOTHER NUMBER TO ACCESS MY *901# PROFILE?
Not at all! That would defeat the whole idea of your profile being secure. However, you can update the number on your *901# banking profile making the updated number your valid profile number.
Except of course you wish to deactivate your profile
HOW MANY TIMES IN A DAY CAN I USE THE *901# SERVICE?
As many times as you want. Although, there are limits to certain services such as transfers and 3rd party airtime purchase. These limits are placed to protect your account from unscrupulous entities.
CAN I MAKE A COMPLAINT THROUGH THE *901# SERVICE?
To be honest, I've never seen that as an option on the *901# platform so I'd say the answer is no. You could use their social media platforms or email service though.
That being said! These are some things to know about Access Bank's *901# service. This article couldn't possibly give you all the information you need, so head on to their website and find more for yourself. Visit by www.accessbankplc.com today… or any other day.