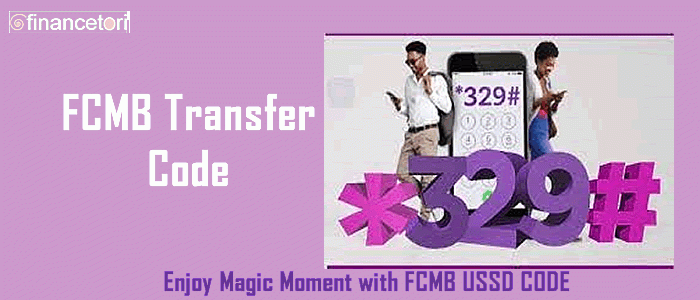 First City Monument Bank USSD Code. Perform all your banking transactions on the go - buy airtime, transfer money, access a loan and more. Carrying out banking transactions shouldn't be a hassle or dependent on time and location. What could be better than a fast, convenient and secure way to achieve this? Dial *329#, register using any phone type and carry out your transactions on the go – even when you do not have data!
List Of First City Monument bank USSD Code?
| | | |
| --- | --- | --- |
| S/N | FCMB USSD CODE | Function |
| 1 | *329*Amount# | To top-up your mobile phone |
| 2 | *329*Amount*Mobile number# | To top-up other mobile phones(3rd party number) |
| 3 | *329*Amount*Account number# | To transfer funds |
| 4 | *329*00# | To check balance |
| 5 | *329*0# | To reset PIN or reset/create transaction code |
| 6 | *329*1*Mobile Number# | To buy data on any phone |
| 7 | *329*2*Amount*Smartcard Number# | To pay for DSTv or GoTv subscription |
| 8 | *329#, select self-service, select block card | To block debit card |
| 9 | *329#, select self-service, select link BVN | To link BVN |
| 10 | *329#, select statement, select full statement, then select duration (up to 6 months). | Your statement will be sent to your registered email address instantly |
| 11 | *329#, select statement then select mini statement | To view your last five (5) transactions instantly. |
| 12 | *329*3*Amount*Meter No# or *329*3*Amount*AccountID# | To make your electricity bill payments. |
How To Block USSD *329*911#

Profile or Block Bank Account
(Dial from either Registered or Unregistered number) see below:
Dial *329*911#

Select 1 for USSD Account

Select 2 for Bank Account

Enter Mobile Number or Bank Account Number

Confirm blocking of displayed Mobile Number/Bank Account and enter USSD 4 digit PIN
Do you know that you need a Transaction Code to transfer up to N500,000.00 daily?
If you have not created your transaction code, simply follow these simple steps:
How To Create Transaction Code
Dial *329*0#

Select Create/Reset code

Select your ATM Card (for customers with multiple cards)

Enter your ATM Card PIN

Create a 4-digit Transaction Code e.g. 1234

Enter your USSD PIN

Transaction code created successfully

For Dispute Resolution, see steps below:
Dial *329# on your mobile phone

Select Self-Services from the menu
Select Dispute Resolution, then proceed to choose your account
Benefits of First City Monument Bank USSD
The benefits of the USSD generally are pretty straightforward. These include:
It is easy and convenient to use

It is very fast

It is pretty safe as it can only be used on your phone with your registered phone number

It is cheap as it attracts very little token of about 11 naira (At least most times)

It is available 24/7 (Except during routine maintenance)

It is accessible from anywhere in Nigeria

It doesn't require data, just regular signal service to operate.
Terms And Conditions For First City Monument Bank Limited Fcmb Ussd
You (Customer) should read this Terms and Conditions before completion of enrollment on the FCMB USSD (*329#)

Representing that you are over 18 years old and have the capacity and authority to bind yourself to the terms and conditions of this license, and

You will be deemed to have read and accepted these terms and conditions when you first enrolled on the FCMB USSD, and are consenting to be bound by this license.

If you do not agree to all the terms and conditions of this agreement, or do not represent the foregoing, choose the "DECLINE" button, in which case you will not enroll or use the application.
Conclusion: This article provided information on all you need to know about FCMB USSD code. As First City Monument Bank customer, you have the information needed to operate the USSD code *329#, for your bank. Feel free to try it at any time and if you need more information, do well to visit the bank website at https://www.fcmb.com/ussd