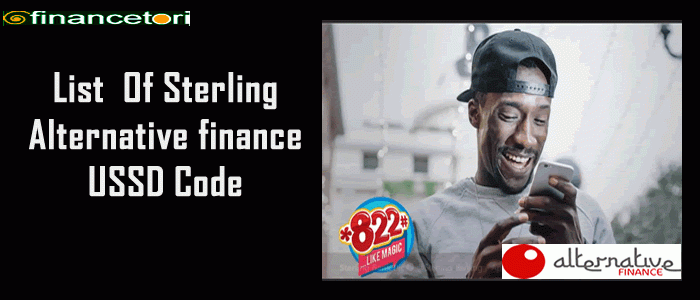 Sterling Alternative Finance USSD *822# is Unstructured Supplementary Service Data. It allows you have access to basic financial services by simply dialing *822# on any mobile device – no data required. Registration is simple; just dial *822# today to experience the Magic!
List Of Alternativ Finance Ussd Code
| | | |
| --- | --- | --- |
| S/N | CODE | DISCRIPTIONS |
| 1 | *822*1*NUBAN# | To register |
| 2 | *822*Amt# | Airtime-self |
| 3 | *822*Amt*BeneficiaryNo# | Airtime-others |
| 4 | *822*4*Amt*NUBAN# | Transfer-within |
| 5 | *822*5*Amt*NUBAN# | Transfer to other Banks |
| 6 | *822*911# | Block your account |
| 7 | *822*6# | Account Balance |
| 8 | *822*7# | Open Account |
| 9 | *822*8# | My Account(s) |
What Are The Benefits Of Using Sterling Alternative Finance USSD Code *822#
Automatically links all accounts, where you have multiple accounts

Self-service registration.

Works on any mobile device and does not need mobile data or internet.

Available to all Telco subscribers (Airtel, Glo, MTN, 9Mobile).

You can purchase airtime, pay bills, make transfers to any bank account in Nigeria anytime, any day from your Alternative Finance Account

Transaction pin used to secure transactions.

Get cash at the ATM without using your debit card.

Easy means to send cash to friends and family, without compromising your debit card information.

This service is available 24/7 on all Quickteller-enabled ATMs.

Fast, convenient and simple.

No need to enter the banking hall or fill any forms.

Check your account balances anywhere.
Frequently Asked Question About Sterling Alternative Finance USSD Code
How can I register for the Service?
You can automatically register for the service if you are an account holder by dialing *822*1*NUBAN# OR the system automatically prompts you to register when you try any transaction. As part of the registration process, you will be required to create a PIN to enable you access the Intra and Inter Bank transfer services on the USSD platform. Corporate account holders are not eligible.
Do I need to have airtime on my Phone line to access this service?
For airtime purchase on Airtel, Etisalat, GLO and MTN, you do not need to have airtime on your phone.
What is the maximum amount of airtime i can buy?
You can buy up to N20,000 airtime in a single purchase, and N20,000 limit per day.
What is the maximum amount I can transfer?
You can transfer up to N20,000 per transaction with PIN 1, and up to N100,000 per transaction with PIN 2, with a daily limit of N100,000 for savings and current account.
What happens if my transfer or airtime top up fails and my account has been debited?
An auto reversal to credit your account will be effected within 24 hours. If this does not take place, kindly contact our Contact Centre on 017000555 or send an email to [email protected]
What can I do if I misplace my phone?
Dial *822*911# to disable USSD on your account or block your account.
How secure is *822#?
*822# is very secure as you are required to set and confirm your PIN (4-digit) at the point of registration. This PIN is personal and should be kept safe. You will also be prompted to create a PIN 2 using your debit card, if you wish to transfer above N20,000 per transaction.
How do I recharge with *822#?
You can easily recharge your phone line at any time and from anywhere using *822#.
To recharge your phone dial *822*AMOUNT# Example: From your phone, dial *822*500# to recharge ?500 on your phone.
To send airtime to a third party, dial *822*AMOUNT*PhoneNumber#
Example: Dial *822*500*08123456789# from your mobile phone to recharge your friend's phone with ?500 airtime
Are there benefits of transferring funds with *822#?
It is convenient and saves you the stress of going to the bank and filling forms.
The transaction processes within 20 seconds.
Available 24 hours a day and 7 days a week
You can transfer up to N100,000 by creating a new PIN.
How do I pay bills with *822#?
It is stressful enough to work daily so you can afford to sort your bills, it should not be stressful to pay those bills. *822# is making your bill payment one less thing to worry about. Pay your DSTV, electricity, subscriptions, and many more with *822#
To pay a bill, dial *822*BillerCode*UniqueCode*Amount# or simply *822*2# to see different billers.
Example: From your phone, dial *822*881099*41234567890*10650# to pay for a ?10650 DStv plan
How do I make card-less withdrawals with *822#?
We all know how frustrating it is when you get to the ATM and find out you forgot your card at home. With this, you do not need a card to withdraw money from the ATM. It is easy, seamless, and secure. Transaction limit for cardless withdrawal is N20,000.
Simply dial *822*42#
Example: From your phone, dial *822*42# and follow the prompts to create a one-time PIN (OTP). Enter your transaction pin for confirmation, a code will be sent to your mobile number via SMS.
At the ATM, enter the code, amount and the One Time Pin created, to get your cash.
How do I manage my cards with *822#?
*822# card management feature enables you to manage card activation and card pin change.
Dial *822*19# and select Card activation to activate your debit card after pick up.
Dial *822*19# and select Pin Change to change your debit card Pin instantly.
Example: Want to curb a spending habit? Dial *822*19# and select the channels you wish to disable and enable your cards for.
How do I reset my PIN using *822#?
Has your PIN been compromised? Or have you forgotten your transaction PIN? Yes? Alright, you can easily reset your USSD transaction PIN with this service.
To change your PIN, dial *822#, select Pin Reset
How to check your balance:
To check your account number: *822*8#
TO check your Account Balance: *822*6#
Conclusion: The alternative finance *822# USSD code is fast, convenient, secure, and easy way to carry out your banking transactions anytime and anywhere, by just a dial of number on any type of phone without the need for an internet connection. We believe that this article has provided you with the information u needed to use alternative finance USSD code.