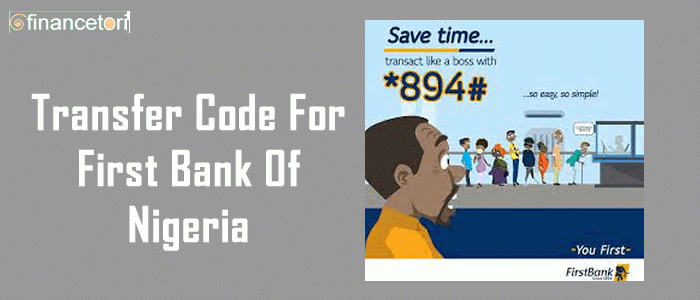 First Bank Nigeria (FBN) is an International Bank, Nigeria's first bank as the name implies and is one of the biggest banks in Nigeria. Like all other banks in Nigeria, they have a USSD system that enables their customers to carry out transactions without visiting a bank or having data for online banking. Transactions can simply be made with your cellphone whether you have data or not. This is a seamless process and has proven very instrumental in advancing banking in Nigeria since it came to be in Nigerian. Each bank has its own unique code and first bank is no different, as they have their own USSD code through which their customers can operate. So what is this code?
List of First Bank Nigeria USSD Code
The primary USSD code for FBN is *894#. It is the basic codes from which all other USSD codes exist for FBN and without it, you cannot perform a USSD transaction on FBN. Other codes include:
| | | |
| --- | --- | --- |
| S/N | First Bank USSD CODE | Function |
| 1 | *894# | General Purpose Code |
| 2 | *894*00# | To check Account Balance |
| 3 | *894*Amount# | For instant recharge or top up |
| 4 | *894* Amount*Phone Number# | To recharge for someone else (3rd Party) |
| 5 | *894*Amount*Account Number# | For Transfers |
| 6 | *894*Account Number# | For mini account statement |
| 7 | *894*0# | To open account |
| 8 | *894*911# | To deactivate your number (in the banks' system) |
These are the USSD codes for First Bank Nigeria. With these, you can perform almost all your banking activities hassle free and without having to visit a bank branch.
Benefits of First Bank Nigeria USSD
The benefits of the USSD generally are pretty straightforward. These include:
It is easy and convenient to use

It is very fast

It is pretty safe as it can only be used on your phone with your registered phone number

It is cheap as it attracts very little token of about 11 naira (At least most times)

It is available 24/7 (Except during routine maintenance)

It is accessible from anywhere in Nigeria

It doesn't require data, just regular signal service to operate.
Frequently Ask Questions
What is 894?
894 is a quick, convenient, secure and easy way to perform your banking transactions (Transfer Money, Check Balance, Buy Airtime, Pay Bills and lots more) anytime and anywhere, using any type of phone without internet (data).
Who can use this service?
All Individual account holders with phone numbers enrolled on the Bank's SMS alert platform. Joint, corporate, and multiple signatory accounts are not eligible for this service.
What services are available on 894?
You can transfer money, buy airtime for yourself and others, check your account balances, make purchases, pay your bills, open accounts, and lots more.
Can I use the service on more than one of my accounts?
Yes, you can.
How do I enroll for 894 services?
If you have an existing First Bank debit card(s) linked to your account(s):
• Simply dial *894*0#
• A list of masked debit card numbers linked to your account is displayed
• Select your preferred debit card
• Enter the 4-digit Personal Identification Number (PIN) for the selected debit card
• Create a new 5-digit PIN
Your number is now LIVE on the First Bank USSD Quick Banking Service.
Is this service available on all mobile networks?
Yes, all subscribers of Airtel, MTN, Globa com and Etisalat networks can use and enjoy the services.
How secure is the 894 Mobile Banking?
894 is secure as it requires registration and PIN authentication on all your banking transactions.
Who do I contact for support or enquiries?
Please call 0700FIRSTCONTACT (0700-34778-2668228), or email [email protected]. You may also visit the nearest branch of first bank Nigeria.
Conclusion: This article provided information on all you need to know about FBN USSD code. As First Bank Nigeria customer, you have the information needed to operate with the USSD code for your bank. Feel free to try it at any time and if you need more information, do well to visit the bank website on www.firstbanknigeria.com